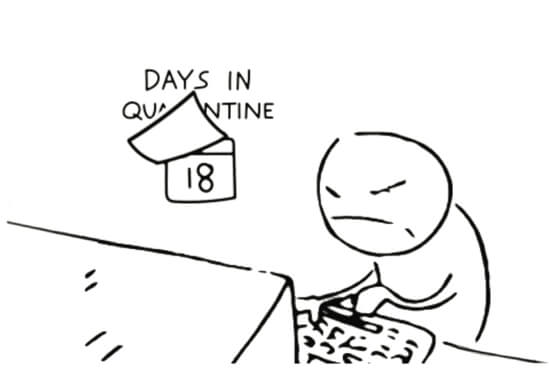 WHEN WFH FEELS MORE LIKE WTH...
After your third "quarantini" in week one you were thinking, yeah, I could get used to this. But a couple months later and you're dreaming about your next 'day-cation' at Home Depot.
"How am I expected to continue like this?!?"
Well, rest unassured...you're not alone. Even if, literally, you are. Because we, too, feel that pain. It's why we 'updated' an early icon of internet frustration (the angry typist) to help express what so many of us are feeling. Locked inside, trying to keep our chins up while keeping our heads down. Go ahead and try it. It's a pain in the neck.
THE NEW NORMAL GETS OLD FAST
Managing the daily grind from the 'comfort' of home is making some of us long for the 'good-old-days' of actually getting things done.
"Is it lunch time already? But I haven't even had breakfast!"
Meanwhile, your team is standing by, somewhere in the ether, anxiously waiting for you to chime in on something urgent…while you reset the router (again) because you keep getting booted from the wifi. Yeah — there are definitely days it feels like you're working twice as hard to accomplish half as much. *SIGH*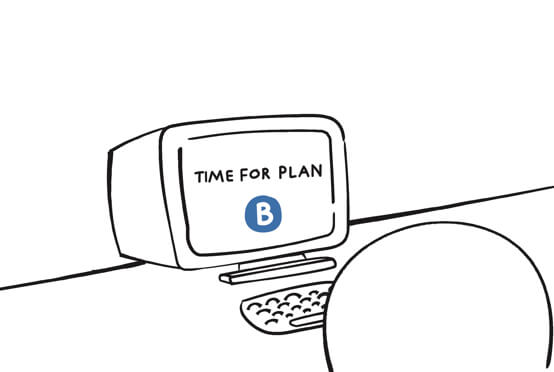 CONSIDER PLAN B
You may feel isolated at times, but you don't have to go it alone when you have a Plan B. Save us to your favorites and plug us into whatever (whenever) to get back to pre-pandemic levels of production. No, it may not bring a swift end to this 'bad dream' of an open-ended self-quarantine. But it just may save your keyboard from a telework tantrum or two.
Feel free to browse. We'll be here to listen.