So, you're thinking about moving your company's events to the virtual realm. Or, you've been directed to. Maybe to cut costs. Or to beat your competition to the punch. Or, maybe a pesky pandemic is forcing you to get creative. We get it. You're under a lot of pressure to make something happen. The good news is, you don't have to go it alone.
THE DILEMMA'S IN THE DETAILS
If you've been Googling around, you're probably getting lightheaded from the myriad things to think about. What platform should you use? What format should it take? Should it be live or on-demand? Ugh. It's hard to know where to start. When the liquor cabinet starts looking like your best option, it might be time to bring in an expert. In other words, time for Plan B.
EXPERIENCE CREATING EXPERIENCES
DIY is a great attitude for fixing the sump pump, or diagnosing an unresponsive weedwacker. Not so much for coordinating a virtual event. SO…while You-Tubing demo videos and browsing blog posts might be a good start, sometimes you're just better off bringing in the big guns.
Plan B has in-house experts experienced in every phase of virtual event management –– from pre-show planning, promotion and communications to day-of event production and coordination to post-show analysis and follow-up.
And we're platform agnostic – meaning we won't sell (or mark up!) technology solutions you don't need to pad our bottom line. We can navigate a system like Bizzabo as nimbly as we can activate on Cadence, so it's really all a matter of what's right for your event, your company, your customers, and your budget.
COMPREHENSIVE VIRTUAL EVENT PLANNING & EXECUTION
Virtual event development, management, and production is a highly specialized art form with a lot of moving parts. And those parts are typically grouped in three key phases that correspond to your event's timeline.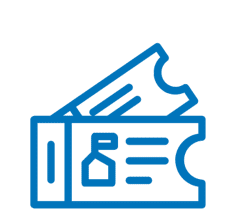 BEFORE THE SHOW
GETTING BUY-IN & BUILDING BUZZ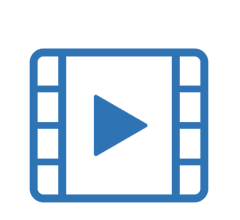 DURING THE SHOW
KEEPING THEM CAPTIVE & ENGAGED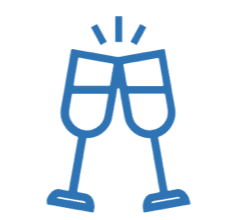 AFTER THE SHOW
CLOSING THE LOOP & THE DEAL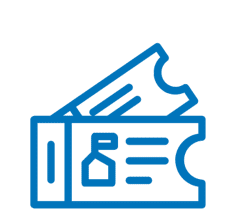 BEFORE THE SHOW
Before forking over a down payment for that trendy, warehouse-district loft space…or sending a cash advance to your B-list emcee, you're going to need internal buy-in from the folks who control the purse strings. Plan B can ease the potential terrors of change management, helping out in ways you didn't know an agency could: building a business case for the expense, developing briefing materials for internal stakeholders, and providing expert training to staff, ensuring everything, and everyone, is primed to perform.
Upon approval of the plan, we'll help set everything in motion…from platform evaluation and production scheduling to theme development and creative execution. It's entirely up to you how much you want to bite off and chew…knowing that our best-of-breed specialists are ready to tap in on anything from video production and email deployment to CRM integration and translation services.
Just like managing a real event, things can move and change quickly…so you'll need a partner who's comfortable doing the same.
IN-HOUSE EXPERTISE FOR ONLINE EVENTS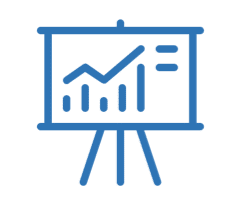 Presentation scripting, design and production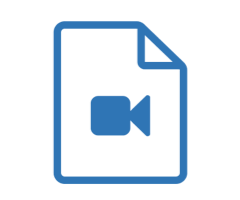 Video scripting, art direction and production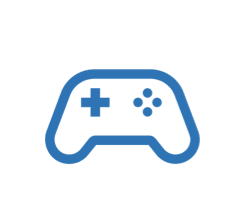 Activity concept and production
(polls, games, giveaways, etc)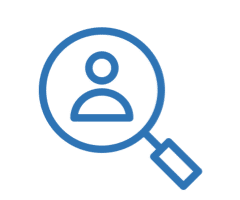 Talent staffing
(presenters and entertainers)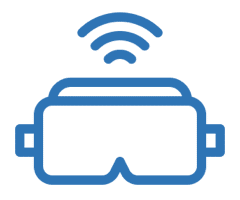 VR experiences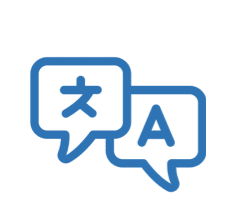 Translation services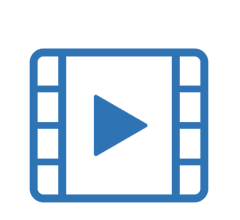 DURING THE SHOW
Venturing into the virtual realm, especially for the first time, is a tad more complicated than firing up a few webcams and hoping the folks at home won't be distracted by barking dogs, screaming kids, and the relentless pinging of iPhone notifications. This is one of the biggest differences between in-person and on-line events. Share of attention. And you're gonna have less of it, so you gotta make it count.
As brand stewards, storytelling is what we do. Start by mapping out a virtual experience we'd want to attend ourselves, and load it with the kind of must-see content people will be trying to download afterward. And then really think through that remote experience –– through the eyes of the attendee –– to imagine some unexpected ways we can make it that much more memorable.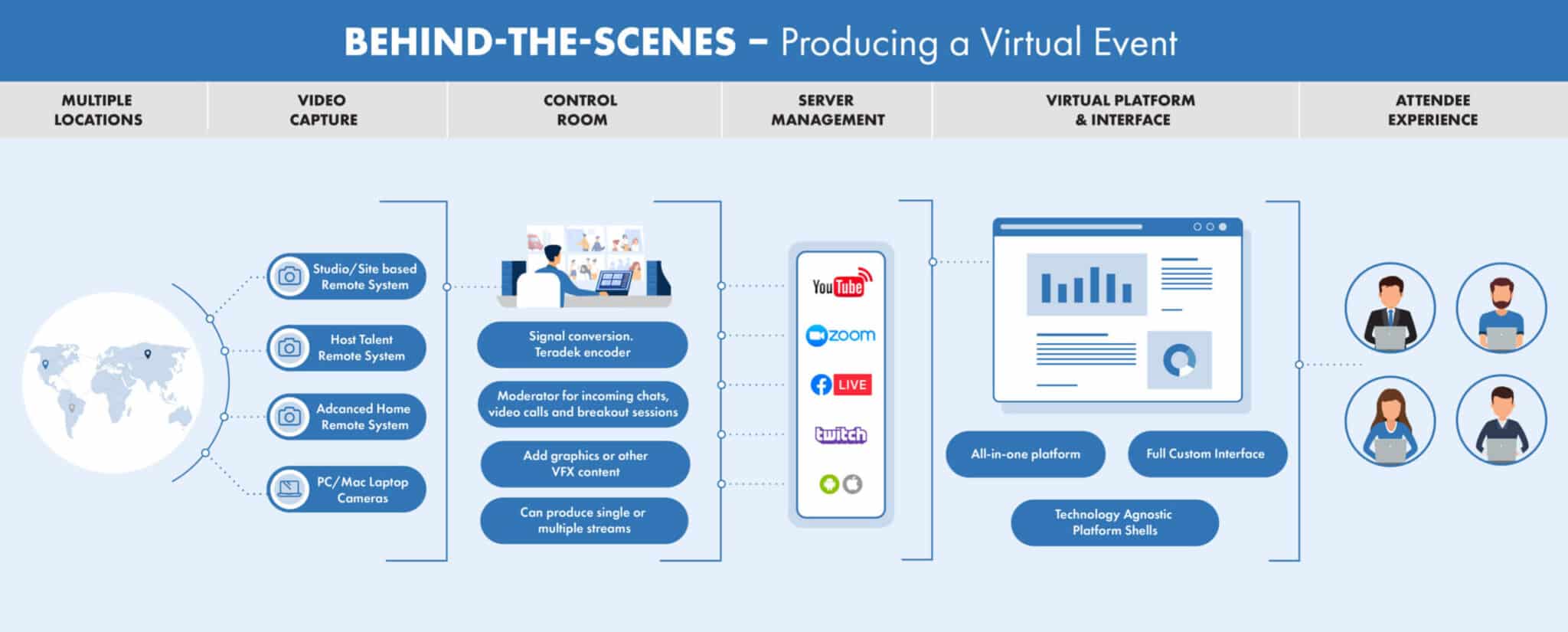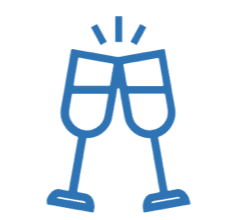 AFTER THE SHOW
OK, so…aside from that off-color joke your CEO told during the keynote and that hot mic incident in breakout room 2B, your event went off without a hitch. Congrats for that. But before you pat yourself on the back, we've got to start knotting up those loose ends.
As soon as your last session is over and the last attendee has signed off, Plan B is back in action, collecting and analyzing event data, scheduling follow-up surveys and communications, and promoting additional activities that extend the impact of your event.
Our advice at this critical point? Don't ignore the data. It pays off with invaluable insights that will improve future events, help qualify leads (that will drive sales!), and forge new and potentially lucrative relationships. So, the way we look at it, "the end" is really just the beginning.
JUST THE RIGHT TECH FOR THE RIGHT TYPE
OF EVENT
Online events should not be like a box of chocolates – you should always know exactly what you're going to get. And that means carefully curating every detail to ensure a surprise-free affair. Our platform-agnostic approach allows us to source the technology that provides the precise features and capabilities you need to pull off whatever it is you need to pull off, from a simple Facebook Live event to a minor miracle. Here are some of the types of virtual/online events we can help you plan and execute.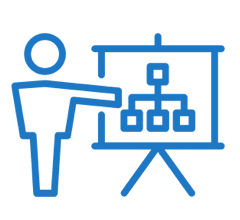 Virtual training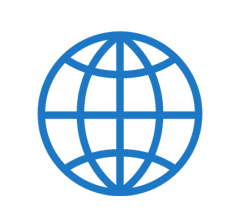 Digital conferences and online summits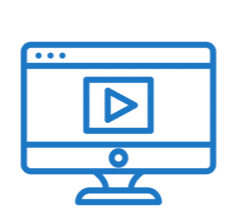 Live or recorded webinars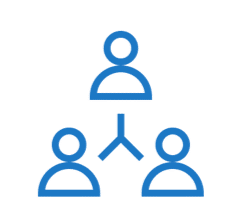 Remote networking events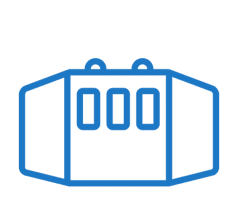 Virtual trade shows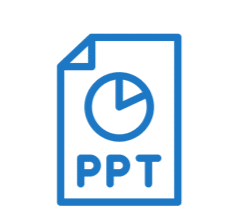 KEYNOTES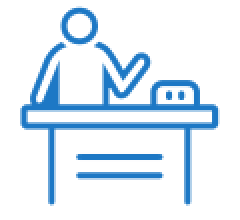 Product demonstrations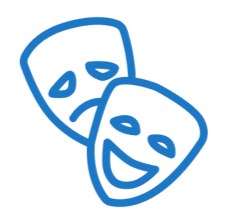 Entertainment activations
… and just about anything else you can think of!